Stella Maris is a welcoming and safe school for children with allergies, including those with severe potential anaphylactic reactions.
There are several children in the school at present with severe food allergies and Stella Maris is well prepared for them in the day to day safety issues and also in dealing with possible severe reactions.
All the staff have a yearly update with the public health nurse regarding allergies, recognising signs of a reaction, and use of Epipens.
Medications are kept in a safe and accessible place.
Classes which have an allergic child will be talked to about the allergies and usually shown the Allergy NZ Children's Video.
Stella Maris is a PEANUT FREE school, ie. no peanuts, peanut butter, muesli bars with peanuts, biscuits with peanuts etc. to be brought to school for lunch. Sharing of food is also discouraged.
Foods that mention 'possible traces of peanuts' are acceptable.
Parents of children with allergies are encouraged to discuss issues and are welcomed into situations where there is increased risk eg. field trips, baking at school.
The Allergy NZ school pack is available and their support material used. The school has taken part in Allergy NZ Red Alert weeks and in 2006 Stella Maris children were joint winners in the poster competition.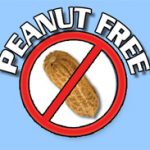 Allergy NZ website is www.allergy.org.nz
Stella Maris School is a "Peanut Free Zone" due to children at the school with life-threatening allergies to peanuts.